Three students earn awards at Kansas City One Health Day, draws large audience
Friday, Nov. 10, 2017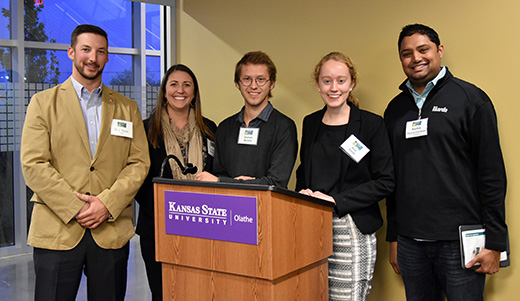 Student poster winners Graham Murphy (center) and Erin Smith (center right) pose with sponsors of the scholarship contest.
OLATHE — Three students have been awarded scholarships for their One Health-centric research projects at the recent Kansas City One Health Day. The event at the Kansas State University Olathe campus highlighted and stressed the importance of a collaborative research approach to human, animal and environmental health.

Winners were Sarah Remfrey, master's student in veterinary biomedical science at Kansas State University, from Tecumseh, Kansas, in the graduate student category; Graham Murphy, a student at Johnson County Community College, in the undergraduate category; and Erin Smith, a student at Shawnee Mission West High School, in the high school category.

They competed against a dozen high school, undergraduate and graduate students in a research poster competition as part of Kansas City One Health Day. Projects looked at emerging infectious diseases, food safety and security, antimicrobial resistance, invasive species, environmental pollution, loss of biodiversity, using algorithms to detect facial biomarkers for Parkinson's and other diseases before they have been diagnosed, and more.

Students visited with judges about their research and findings. Students also discussed projects with the nearly 150 event attendees.

The scholarships were sponsored by Likarda LLC, Aerotek and the Veterinary and Biomedical Research Center.

"It was wonderful to see so many young minds not only attend the Kansas City One Health Day event, but take an active role in the research that fuels it," said Ralph Richardson, dean and CEO of K-State Olathe. "The research posters were a spectacular way to showcase some of the region's future talent who will be pioneering breakthroughs in the One Health arena."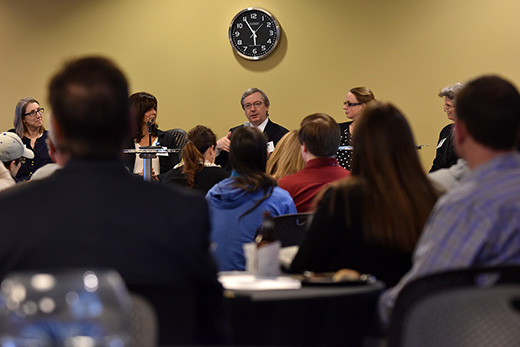 Kansas City One Health Day also included an overview of One Health and its increasing influence on society from Wayne Carter, president and CEO of the Kansas City Area Life Sciences Institute, and a discussion panel consisting of experts in human and animal health, patient advocacy and community engagement, higher education and pharmaceutical development. Panelists spoke about the links they have observed between humans, animal and the environment and how these connections are being explored by companies in Greater Kansas City and beyond as new avenues for human and animal therapeutics.

The example was given about how a breed of sheep in Scotland have changed its diet because climate change has reduced the availability of the plant that served as the animals' primarily food source. Research found that the plants serving as the new food source released alkaloids that switched off certain genes in the sheep, leading to birth defects and other diseases. As a result, these same plant alkaloids are now being used as a pathway to develop new brain cancer drugs.

"Sometimes the information you need comes from left field and you just have to keep an open mind," Tom Curran, executive director and chief scientific offer at the Children's Research Institute at Children's Mercy, said during the panel.

Kansas City One Health Day was a collaboration with K-State Olathe, Kansas State University's College of Veterinary Medicine, the Kansas City Area Life Sciences Institute and BioKansas.

To learn more about One Health, download Carter's PowerPoint presentation at http://olathe.k-state.edu/community/events/one-health-day/documents/Kansas%20City%20Life%20Sciences%20-%20One%20Health%2011-1-17.pdf