K-State Olathe enrollment hits spring record
Wednesday, Feb. 15, 2017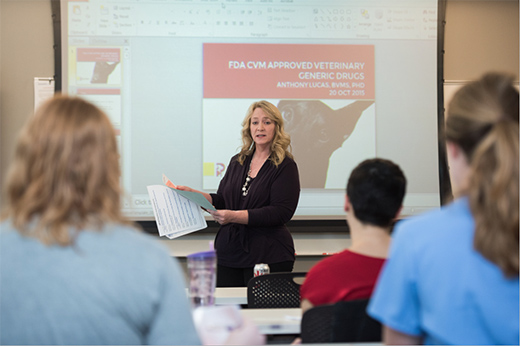 Student enrollment at K-State Olathe is at an all-time high.
OLATHE — Kansas State University Olathe continues to set records in enrollment. Student numbers for the spring 2017 academic semester break the campus' previous enrollment record set in fall 2016.
K-State Olathe has 142 students who are earning master's degrees, doctorates, professional science master's degrees or who are taking graduate-level coursework through on-campus or distance classes. This is up from the 118 students enrolled in fall 2016. Much of the growth stems from new academic programs at the campus and some academic programs at Kansas State University adding K-State Olathe distance sections to the course catalog.

K-State Olathe also saw increased student numbers in two of its newest academic programs. Thirteen students are enrolled in the Professional Science Master's degree program — up from the eight students who applied to the program's first course in the fall 2016. The College of Education's school counseling master's degree program, which launched the degree at K-State Olathe this January, also has enrollment.

"I am delighted to see our student numbers increase each semester at our young campus," said Janice Barrow, associate dean for academic affairs and executive education. "K-State Olathe is currently one of the best kept secrets in Greater Kansas City. We look forward to seeing our enrollment continue to increase as more and more students discover our academic programs and how they can help fulfill their career potential."

K-State Olathe offered its first academic credit class in June 2012. The campus offers graduate-level degrees and certificates in animal health, applied science and technology, food science, leadership and adult education, school counseling, industrial and manufacturing systems engineering, and horticulture with an emphasis in urban food production that serve the workforce needs of Greater Kansas City.
To learn more about K-State Olathe's academic degrees and certificates, visit olathe.k-state.edu/academics.