2015 news releases from K-State Olathe
Dec. 4, 2015
Why pursue a master's degree in industrial and manufacturing systems engineering? Deandra Casssone, associate professor at K-State Olathe, tackles the topic in an upcoming webinar on Dec. 10 at 12-1 p.m. Read more.
Nov. 17, 2015
Wondering what to do with Thanksgiving leftovers? A Kansas State University Olathe food safety expert offers several storing and safety tips that are designed to keep Thanksgiving leftovers filled with flavor rather than a foodborne illness. Read more.
Nov. 13, 2015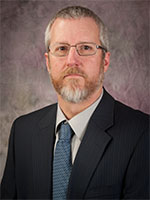 Bryan Severns, manager of food programs and services at the Kansas State University Olathe campus, shares some food preparation tips for home cooks that will ensure guests pile their plates with safe food dishes and forgo a side of food poisoning. Read more.


Nov. 5, 2015
Deandra "Dee Dee" Cassone has been hired as an associate professor in the industrial and manufacturing systems engineering program at Kansas State University Olathe. Students can now take master's courses in industrial engineering and operations research at K-State Olathe with a goal of enhancing their careers and improving decision-making skills. Read more.


Nov. 3, 2015
Suzanne Parsel, veterinarian and project director of One Health Cubed at K-State Olathe, discussed developing a clinical research network in the Animal Health Corridor that accesses naturally occurring diseases in pets as models to advance human medicine at the recent World Veterinary Association 32nd Congress. Read more.
Oct. 20, 2015
When Kansas State University's Human Capital Services launched an initiative to improve the health and well-being of the employees, team members from K-State Olathe took the challenge and achieved an impressive third place finish in the inaugural movement challenge. The team members logged an average of 14,364 steps in the final week of the challenge. Activities to help employees increase their exercise levels included walking, running, biking and sand volleyball. Read more.
Sept. 17, 2015
On Oct. 12th, Cargill's Executive Chairman Greg Page will address the important topic of "Climate Change and the Future of Food Production," as part of the Henry C. Gardiner Global Food Systems Lecture Series at McCain Auditorium. In an effort to share this opportunity with the Kansas City metropolitan effort, K-State Olathe will host a live stream of the event. Read more...
July 1, 2015
Kansas State University has named Ralph Richardson as the interim dean and CEO of K-State Olathe, effective Aug. 2. Read more...
June 15, 2015
A 15-credit hour Graduate Certificate in Leadership Dynamics for Adult Learners has been created to serve working professionals seeking to expand their skills in the areas of organizational leadership, interpersonal interactions, and multicultural and global perspectives. Read more...
May 5, 2015
The Petfood Forum chose K-State Olathe as home to its new Petfood Innovation Workshop for 2015 — and possibly for the next three years. The workshop was sold out with more than 200 participants from across the country. Read more ...
Apr 20, 2015
K-State Olathe recognized 22 corporate partners and the research of 10 K-State innovators at the inaugural launch of Ingenuity Central on April 9. Read more...
Apr 6, 2015


K-State's Olathe Innovation Campus is hosting its inaugural Ingenuity Central event Thursday, which is aimed at sparking new ideas and collaborations among companies from a variety of sectors and promoting further innovation and business growth in the region. Re ad more...
Jan 14, 2015
K-State Olathe has made key appointments to its administrative leadership and academic team. Janice Barrow will serve as associate dean of academic affairs and executive education, and Constantine "Dean" Vakas will serve as executive director of administration and finance. Additionally, Andi Witczak will serve as design thinker in residence to support educational innovation. Read more...