K-State Olathe's Swaney-Stueve Recognized by American Royal
Tuesday, May 7, 2013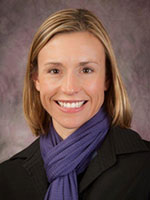 The American Royal recognized Marianne Swaney-Stueve, Kansas State University Olathe, as "Rookie of the Year" at the organization's annual dinner and awards ceremony recently in Kansas City.
Stueve was recognized for her leadership on behalf of the Sensory and Consumer Research Center at K-State Olathe for the September steak competition held at the campus. Beef producers from across the country were invited to submit ribeye steaks for judging in two categories, grassfed/finished and grainfed/finished, for the inaugural American Royal Steak Competition.
The steaks were received and prepared at K-State Olathe, and judged by a panel of experts, including Kansas City restaurateurs, a food writer/adventurer/author, grass and grain fed beef representatives, members of the Kansas and Missouri Beef Council, and K-State Olathe food programs and services manager Bryan Severns.
Swaney-Stueve said, "The American Royal is such a wonderful organization with so many great volunteers, I was so honored to receive the award. Being a part of the first steak competition was a fun and educational experience; we learned so much and have already starting planning for the next round."
Chair of the 2013 American Royal Cynthia Pistilli Savage said, "Our volunteers are the heartbeat and backbone of our organization. Last year, American Royal volunteers donated thousands of hours of their time and expertise to fulfill our mission of providing valuable learning experiences that in turn promote hard work, leadership skills and agrarian values throughout our community."