Hundreds of students taking part in K-State Olathe's King Arthur Flour Life Skills program April 2 and 3
Thursday, March 29, 2012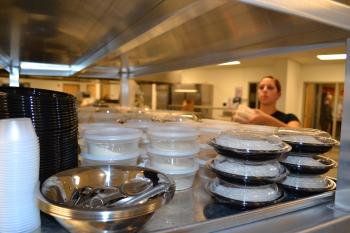 Hundreds of fourth- and fifth-graders from Johnson County public and private elementary schools will descend upon Kansas State University Olathe to take part in the King Arthur Flour Life Skills program, from 9 a.m. to 3 p.m. Monday, April 2, and 9 a.m. to 1 p.m. Tuesday, April 3.
The King Arthur Flour Life Skills program is developed to help students and others in the community to learn life skills and increase math and science understanding. For students in grades four and five, the program provides skills students need to make bread from scratch, utilizing math, science, technique tips, reading, planning, creativity and more.
After students complete the King Arthur Flour demonstration, they will participate in a K-State Olathe food science lab, investigating the science behind the components of wheat flour. They'll learn the functionality and science of wheat flour and then apply those concepts in making salt play dough.
With K-State Olathe as the hosting facility, more students and educators are able to take part. The classrooms, industrially equipped kitchens, banquet room, loading dock and lobby at K-State Olathe will all be utilized for the two-day program.
"The quality of our facilities and the expertise of the staff in hosting the program with industry and community partners allow this to be a communitywide event," said Micheal Strohschein, director of K-12 science education partnerships for K-State Olathe.
Experts from the food industry as well as academia, including K-State Research and Extension in Johnson County, Hy-Vee, Baker Coggs, K-State Sensory and Consumer Research Center and K-State alumni, are partnering with K-State Olathe to offer this special experience to students.
"Each student leaves with enough supplies to makes two loaves of bread, one of which will be donated to a local food bank designated by their school – which truly makes it a community and life-skills experience," Strohschein said.
All of the flour and supplies are being donated by King Arthur Flour, which is headquartered in Vermont.
For more information, contact Strohschein, at mistroh@k-state.edu or 913-307-7342.
Kansas State University Olathe advances the mission of Kansas State University by integrating education, research and entrepreneurship, focused on animal health, food safety and security.