K-State Olathe hosts its first course for graduate credit
July 6, 2011
Kansas science teachers take away food safety messages to share with their students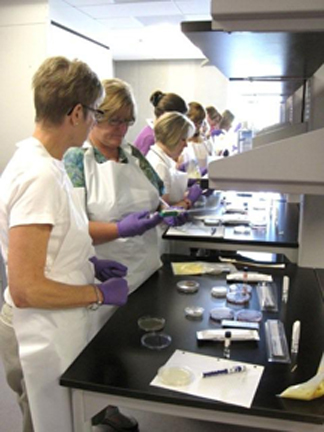 OLATHE, Kan. – The newest Kansas State University campus hosted its first course for graduate credit recently. Twenty high school and middle school teachers from around the state converged at K-State Olathe's International Animal Health and Food Safety Institute in June for a four-day workshop entitled, "Teaching Food Safety through Food Science."
The class, for which teachers earned a stipend and the option to receive graduate credit, featured presentations on topics ranging from microbiology to cooking hamburgers to organic farming – and how food safety and food science play an essential part in the successful practice of all of them. In addition to listening to presentations by Kansas State professors, attendees participated in hands-on activities in K-State Olathe's laboratory and teaching kitchen and went on field trips to food companies, including food ingredient company Danisco and Sysco Food Services of Kansas City.
Food safety has become a hot topic for the United States, as one in six Americans suffer some sort of food-borne illness every year, while about 3,000 perish from food poisoning annually. Because it can take weeks to trace the source of the specific pathogens that caused any given food-borne illness, prevention is a major emphasis. The goal of the workshop was to educate teachers on how to integrate food safety and food science lessons into their existing science or family and consumer science (FACS) classes so middle school and high school students will be more aware of what they can do to keep from contracting – or putting someone else at risk of contracting – a food-borne illness.
K-State Olathe's partner in the workshop was One Health Kansas, an organization founded by Kansas State in 2008 that promotes awareness and understanding of the interconnections among human, animal and environmental health throughout the state of Kansas. Joan Leavens, the Integration/Outreach Leader of One Health Kansas, worked to develop the teacher workshop and helped guide it throughout the week.
"We wanted to integrate K-State research into the classroom, so we chose presenters in food safety, farm-to-fork safety, and microbiology," Leavens said. "We wanted to give teachers the opportunity to integrate K-State research into their classrooms."
There was a fun side to the education, however. Another idea behind the workshop was to introduce a broader definition of food science and the career opportunities in that field. Experimenting with ways to keep the jam in a Pop Tart from making the crust soggy may not be the first activity that comes to mind when one thinks of a career in science, but solving similar problems could be a very real job possibility.
"One of the things we like to do is match the students with career paths," said Bryan Severns, K-State Olathe's food services and programs manager. "There are some really cool things out there that students can get into that aren't traditional science jobs."
Severns and his wife Sarah spent 30 years in the hospitality and restaurant industry, including 11 years Bryan spent teaching at the New England Culinary Institute with an emphasis in meats and food safety. In addition to his decades of practical experience, he has a food science and industry degree from Kansas State. Along with Leavens, Severns helped develop and guide the week's workshop.
"This four days of immersion in food safety and science teaching was a solid success," Severns said. "Participants and presenters enjoyed the experience and the teachers all took knowledge and techniques that were new to them back to their classrooms. Not surprisingly, the hands-on portions and field trips were highlights for most. Many teachers commented on the microbiology lab activities as very useful and easily tied into their current classroom agenda. Also, the field trips to Danisco and Sysco gave them ideas for career paths for their students. All in all, a very successful week."
"It was a great group of teachers," Leavens said. "They provided us great feedback for future workshops. And the facility was beautiful. It was a great setting."