Overland Park mayor will represent K-State on JCERT Authority
January 28, 2011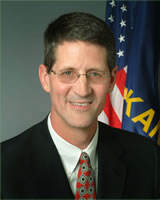 OLATHE, Kan. - Overland Park Mayor Carl Gerlach has been named Kansas State University's representative on the Johnson County Education and Research Triangle Authority, also known as JCERTA.
A cooperative partnership between K-State Olathe, the University of Kansas' Edwards campus and the KU Medical Center, JCERTA aims to create economic stimulus and enhance the quality of life in Johnson County, the state of Kansas and the Midwest. K-State Olathe brings K-State's established expertise in animal health and food safety to students and industry in the Kansas City area so we can collaborate with businesses and help prepare the work force.
Gerlach is a 1976 graduate of K-State, where he earned a bachelor's degree in business administration and played on the men's basketball team.
"We're so pleased that Carl is willing to represent K-State on JCERTA," said K-State President Kirk Schulz. "Carl has a history of working with others to achieve positive results in his many roles in the Kansas City area, and he is a longtime supporter of K-State.
"K-State's Olathe campus will play a key role in our goal of becoming a top 50 public research university by 2025," Schulz said.
Gerlach serves on the board of the Overland Park Economic Development Council and the Overland Park Convention and Visitors Bureau. He was a member of the K-State School of Leadership Studies Advancement Council and is past president of the League of Kansas Municipalities Governing Body. He currently serves on the Bistate Commission.
He is the director of marketing for a major screen-printing company in the promotional products industry.
Gerlach succeeds Karin Brownlee as K-State's representative on JCERTA. Brownlee was recently appointed to lead the Kansas Department of Labor.
News release prepared by: Mary Lou Peter, 913-541-1220, mlpeter@k-state.edu