K-State breaks ground on Olathe campus
June 7, 2010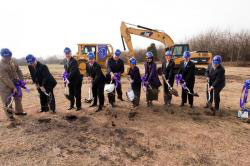 OLATHE, Kan. - Ground was officially broken for the first building on Kansas State University's Olathe campus at 11 a.m. Thursday, Nov. 12, at the Kansas Bioscience Park. The park is at the intersection of Valley Road and College Boulevard.
Dan Richardson, chief executive officer of K-State Olathe, said the campus' first building will be the International Animal Health and Food Safety Institute. The $28 million project will house educational and lab spaces to support research, education and technology commercialization in animal health and food safety.
"It is exciting to realize that an idea that took shape just a few short years ago is now becoming a reality," Richardson said. "This is the beginning of additional educational opportunities, workforce development and technology commercialization that continues to build on the vision made possible by the City of Olathe, the citizens of Johnson County and Kansas State University."
President Kirk Schulz welcomed Mayor Michael Copeland, City of Olathe; Ed Eilert, Chairman of the Johnson County Research Triangle Authority; and Jill Docking, Chair of the Kansas Board of Regents.
K-State Olathe is the academic research presence within the Kansas Bioscience Park. The campus provides a direct link to K-State's many resources while also giving K-State greater visibility and access to the heart of the Animal Health Corridor. Initially the campus will focus on commercially viable applied research and technology discovery in animal health and food safety and security.
Also in the park, the Kansas Bioscience Authority will build bioscience-focused accelerator and incubator facilities designed to advance technology and attract life science start-ups that spin off from research at the K-State campus and elsewhere.
The approximately 108,000-square-foot building is being designed and built by 360 Architecture and the Weitz Company and should be complete by early 2011, Richardson said.
The campus is part of the Johnson County Education and Research Triangle initiative, and the building is financed by a portion of the one-eighth cent sales tax approved by Johnson County voters in November 2008.