A look at the life of a leader - CEO Dan Richardson
June 22, 2010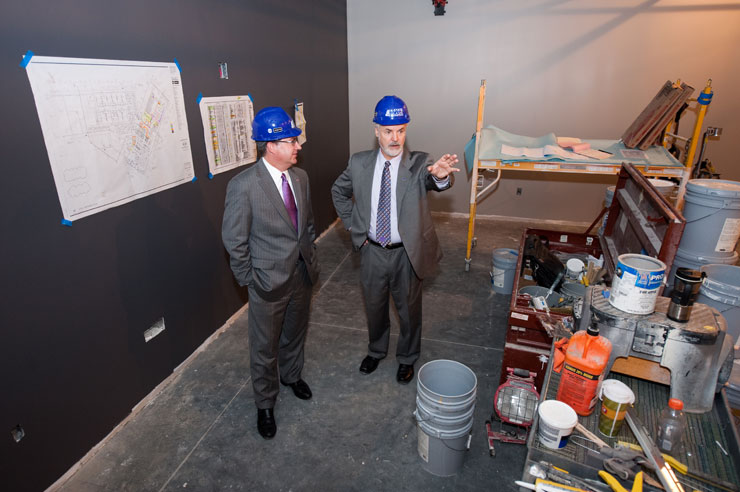 OLATHE, Kan. - When Dan Richardson did an internship at Auburn University after graduating from K-State's veterinary medicine program, he hated standing in front of a class and lecturing. Interns had to give a lecture, and afterwards a student approached Richardson and said, "It was obvious – you didn't like teaching, did you?"
After three years, during which he completed his residency in surgery at the University of Tennessee, Richardson discovered quite the opposite was true.
As a faculty member at Purdue University, Richardson had the opportunity to work with his older brother, who was internal medicine faculty.
"He was an oncologist, so he'd bring the cases, and his biggest kick was to tell me, 'I don't think you can fix this [with surgery],' and that was always a challenge because then I'd go do it," Richardson said. "We'd do a lot of reconstructive surgery and things, but we had a lot of good times working together for two years."
From there Richardson accepted a position at North Carolina State, where he joined a young staff with the chance to develop an entire program. The experience of working together with internal medicine clinicians, epidemiologists, pathologists, oncologists and surgeons made him realize it is possible to do much more as a team than it would be with just one individual.
Richardson won teaching awards at both Purdue and North Carolina State. Through it all, he would always look back and think about that student at Auburn.
"If I had taken that to heart and not taught, I was going to be missing something," Richardson said. "I realized I loved teaching. I loved clients, and I loved working with and helping animals."
Switching Gears
In 1991, Richardson made the switch from academia to industry. His experience at universities and his high school years at the American International School in India gave him all the pieces he would need for the job in orthopedic research with Hills Pet Nutrition, Inc.
"Hill's is based on clinical nutrition, but it's very tied to the veterinary profession, so I was able to then teach and interact with people around the world with research," Richardson said. "It really was kind of a culmination of all the things that I'd learned up to then: I loved surgery; now I was looking for ways to prevent surgery, make animals healthier through nutrition. I learned that teamwork was important, and I had that international background that made me really enjoy traveling to other countries and working with people from different cultures, and that was just a nice bringing it all together."
While at Hills, Richardson taught in every single one of the 16 veterinary schools in Japan, from the tip of Kagoshima clear up into Hokkaidō. He also traveled to Germany, Holland, England, Scotland, Italy and Poland. In addition to the amount of teaching Richardson did in Japan, something else set it apart in his memory.
"I could eat Japanese food all the time," Richardson said. "They always loved it because I would try anything. I love everything from the raw fish on, so it doesn't bother me. I can't believe that, growing up eating meat and potatoes, but I love it."
Born and Raised
With a dad in animal science, Richardson was exposed to animals early on in his life. Kind of like a kid wants to be a fireman, he always wanted to be a veterinarian.
"I grew up raising calves and sheep for 4H," Richardson said. "Until we moved out in the country, we raised sheep in our backyard in town in Manhattan and raised rabbits and raised homing pigeons that never came back and had pet rats and did all that."
Richardson's oldest brother is an English professor, and as Richardson got into high school he became interested in English and English literature and really enjoyed it. As he got into college, however, he realized he really did want to stay with his earliest love and be a veterinarian.
Looking Ahead
So after 15 years going to school and working at universities and 17 working in industry, Richardson's next assignment is creating a campus that will combine both elements. It is intended as a place where Kansas City animal health and food safety companies can come with their problems and have them solved by K-State researchers, who will find and develop technology for use in the real world.
The sky is the limit for K-State Olathe, and in Richardson the campus has an experienced pilot.
- By Ashley Dunkak -