Food Innovation Accelerator
Innovation in the food industry can mean new or updated products, process adjustments, facility or line expansion and updating regulatory compliance. Expertise and specialized are needed to achieve optimum results, both of which may not exist in a company's infrastructure. From an individual with a bright idea to an established company looking to stay ahead of the curve, outside resources are often needed on challenges.
The Food Innovation Accelerator, or FIA, at K-State Olathe is an outgrowth of, and collaboration with, the Kansas Value Added Foods Lab, and is housed in the kitchens of K-State Olathe. It is a blend of facilities and expertise designed to provide support for the food product and ingredient industry — especially those companies starting new product lines or scaling up existing processes.
Capabilities and workspace
Our facilities consist of multiple work areas in five kitchens that match space and equipment to the variable needs of specialty food product producers. Zones in the facility are based on equipment and cooking needs, with some reconfiguration possible. Equipment includes food processors, fryers, slicers and assorted ovens. Kitchens have direct access to a loading dock.
Our services include quality, nutritional and microbial testing (through the Kansas Value Added Foods Lab), product consulting and help with regulatory and food safety issues.
Comprehensive services offered

• Product development consulting
• Scale-up assistance
• Facility rentals
• Food safety and food handler training
• Hazard Analysis Critical Control Point, or HACCP, consulting
• Nutritional labeling
• Product analysis testing
— pH and water activity
• Product testing through the Kansas Value Added Food Lab
— Color, brix and shelf life
— Fat/protein
— Microbial testing
> Total plate count
> Aerobic plate count
> Yeast and mold
> Pathogens
Click on the picture below to see kitchen layouts and the large-scale equipment in them.
Facilities are available by contract only.
Collaborate with us
Bryan Severns
Manager, Food Programs and Services
brysev@k-state.edu
913-307-7317
Past and present collaborators

• Hoganville Family Farms — scaling up sauerkraut production
• Soy-Zen-Zay — edamame spread production
• The pet food industry for the Petfood Innovation Workshop
• Olathe Public Schools for K-12 programming
• K-State Research and Extension Master Food Volunteer Program
• Multiple private partners
An overview of some of these collaborations is available in this PDF document.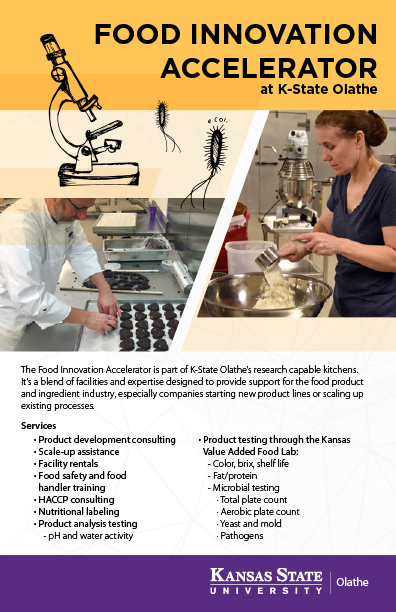 Learn More
Get an overview of the services the Food Innovation Accelerator offers that helps food-based companies feed their entrepreneurial spirit.
Recommended resources for business startups
There are many aspects to starting and growing a business. Your recipe or formula is just the beginning.
Getting your business started

• The Kansas Small Business Development Center is a recommended resource when it comes to assistance with organizing a business startup. The center can provide guidance on writing a business plan, choosing a legal structure and developing financial projections.
• KCSourceLink is a resource navigator that provides a directory of business assistance service providers for start-ups and second stage enterprises.
• The Food Safety and Lodging program is responsible for food safety inspections of food establishments, food processors and lodging establishments. Food establishments are operations that provide food directly to the end consumer, with or without charge.

Starting a food business also involves working with state and federal regulatory agencies. These agencies are in a place to insure a safe food supply. Including them from the beginning of any project will help keep you on track and in compliance.
State and federal resources for information and policies