Professional Development
Part of K-State Olathe's mission is education and talent development. We offer multiple professional development workshops and seminars designed to enhance the knowledge and skills of employees in Greater Kansas City. Continuing education credits are available as noted on the individual events.


Animal Health
April 1-2 | Regulatory Affairs 101 Workshop
This two-day, interactive workshop is an introductory course on the regulatory aspects of animal drug and vaccine development. The workshop provides attendees with an understanding of the veterinary drug approval processes. Content is designed for those tasked with developing and maintaining an animal health company's product portfolio and involved with a company's regulatory strategies | Register now
April 23 | Regulatory Affairs Seminar
The eighth workshop in the Regulatory Affairs in Animal Health in Seminar Series. Information to come about this workshop.
Business Skills
Feb. 21 | Farmer's Market Regional Workshop
The Kansas Department of Agriculture, K-State Research and Extension and the Kansas Department of Health and Environment are hosting a workshop on Feb. 21 to assist farmers' market vendors and managers. It will cover topics important to sellers, such as sales tax, food stamps, pest control, regulations on goods and more. | Learn more
March 20-21 | Agribusiness Finance for Non-Financial Managers
Information to come about this workshop.
April 30 | Creating a Sales Culture at your Bank
Information to come about this workshop.
Leadership Skills
Feb. 27 |
Engaging Across Cultural and Generational Differences
Successful leaders are able to work with and lead others in a culturally diverse workforce. Diversity crosses cultural, global and generational issues. This interactive workshop will provide ways to understand and collaborate with your colleagues by examining workplace flexibility, teamwork, feedback and leadership. This workshop will assist emerging and current leaders become more understanding and inclusive of cultural and generational differences as well as the methods to successfully lead in a globalized environment. | Register now
Presentation Skills
TBA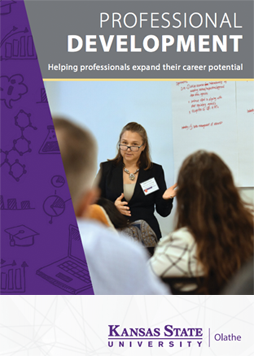 Learn More
Get an overview of the professional development services we offer to Greater Kansas City.

Connect With Us
Looking for a professional development workshop for your employees? K-State Olathe can help. Contact Angela Buzard, manager of training and development, at 913-307-7340 or abuzard@k-state.edu.