Professional Development
Part of K-State Olathe's mission is education and talent development. We offer multiple professional development workshops and seminars designed to enhance the knowledge and skills of employees in Greater Kansas City. Continuing education credits are available as noted on the individual events.
Upcoming Workshops and Seminars
TBA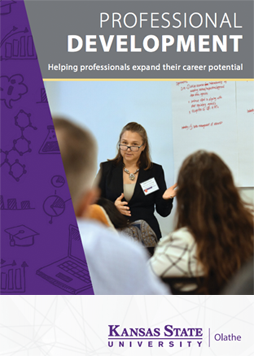 Learn More
Get an overview of the professional development services we offer to Greater Kansas City.

Connect With Us
Looking for a professional development workshop for your employees? K-State Olathe can help. Contact Angela Buzard, manager of training and development, at 913-307-7340 or abuzard@k-state.edu.