Professional Development
Part of K-State Olathe's mission is education and talent development. We offer multiple professional development workshops and seminars designed to enhance the knowledge and skills of employees in Greater Kansas City. Continuing education credits are available as noted on the individual events.


Animal Health
Aug. 12-14, 20-22 | Veterinary Career Transition Workshop
Need a change? Need new challenges? Feeling burned out? Learn how to create a new career path!
Join us for an online career transition workshop for veterinarians that will include information about career opportunities in public and corporate veterinary medicine, with a particular emphasis on careers in the animal health industry. Topics will include career and self assessment, resume building, professional networking, job searching and other key career transition issues. |
Learn more and register
Aug. 26-27 | Regulatory Affairs 101 Workshop
This two-day, interactive workshop is an introductory course on the regulatory aspects of animal drug and vaccine development. The workshop provides attendees with an understanding of the veterinary drug approval processes. Content is designed for those tasked with developing and maintaining an animal health company's product portfolio and involved with a company's regulatory strategies | Register now


Oct. 21-22 | Advanced Animal Health Biologics Workshop
This workshop will cover practical issues in animal health regulatory affairs as it relates to the development of vaccines and other biologics to aid in assuring developed biologics are pure, safe, potent and effective. | Register now
Nov. 11-12 | Advanced Animal Pharmaceutical Workshop
This workshop on veterinary medicine regulations will provide attendees with a detailed, practical and experienced based review of veterinary drug approval processes. | Register now


Nov. 18-19 | One Health Day and Symposium
Details to come.


Agribusiness
Oct. 8 | Managing through Crisis: Lessons Learned and Opportunities for the Future
This one-day workshop will use the recent events from COVID-19 to facilitate the capacities, resources and capabilities to create resilient organizations with sustainable performance regardless of the environmental challenges. The workshop focuses on enterprise risk identification and management strategies. It explores the short-term and long-term, and pushes participants to think about "Black Swans." | Register now


Sep. 24 | Agribusiness Workshop 2
Details to come.


Oct. 15 | KC Ag Business Council Meeting
Details to come.


Dec. 3 | Agribusiness Workshop 3
Details to come.
Leadership
Aug. 10 | The Hot Zone and COVID-19: Teacher Professional Development
Science teachers are invited to a special online professional development opportunity with scientists Drs. Jerry and Nancy Jaax, who are featured in the book and National Geographic Miniseries, The Hot Zone. Educators will watch movie clips from the miniseries followed by comments from renowned researchers Drs. Jerry and Nancy Jaax. | Register now
Sep. 17 | Leadership Essentials, Workshop 1: Professional Presence for Leaders
This workshop will teach the importance and value of professional presences for leadership development. The course will discuss ways to let your professional presence shine and be recognized by others. | Register now


Oct. 13 | Leadership Essentials, Workshop 2: Engaging Across Cultural and Generational Differences
Successful leaders are able to work with and lead others in a diverse workforce. This interactive workshop will provide ways to understand and collaborate with your colleagues by examining workplace flexibility, teamwork, feedback and leadership. | Register now


Nov. 6 | Leading Together Education Workshop:
Details to come.


Nov. 13 | Leadership Essentials, Workshop 3: Using Strengths and eIQ to Maximize Personal and Team Performance
This workshop will help emerging and current leaders understand how to use strengths and emotional intelligence to maximize performance. Specifically, it will help participants learn how to build on both personal and team strengths in leadership roles. | Register now


Dec. 17 | Leadership Essentials, Workshop 4: Critical Communication Skills for Leaders
In this interactive workshop, experiential activities and real-life scenarios will help emerging and current leaders become more mindful listeners and learn techniques and methods that will enable them to handle difficult conversation and conflict more effectively. | Register now
---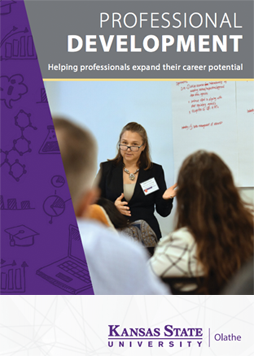 Learn More
Get an overview of the professional development services we offer to Greater Kansas City.


---
Connect With Us
Looking for a professional development workshop for your employees? K-State Olathe can help. Contact Angela Buzard, manager of training and development, at 913-307-7340 or abuzard@k-state.edu.