Professional Development
Part of K-State Olathe's mission is education and talent development. We offer multiple professional development workshops and seminars designed to enhance the knowledge and skills of employees in Greater Kansas City. Continuing education credits are available as noted on the individual events.


Animal Health
TBA
Business Skills
Sales for Technical Professionals
The training will target those who want to move from telling the customer about a product or service and offering technically accurate solutions, to creating lasting business relationships by learning to have sales conversations that build trust and drive revenue.| Learn now
Leadership Skills

Jan. 23, 2020 |

Critical Communication Skills for Leaders
Exceptional leaders listen well and handle difficult conversations with grace and dignity. In this interactive workshop, experiential activities and real-life scenarios will help emerging and current leaders become more mindful listeners and learn techniques and methods that will enable them to handle difficult conversation and conflict more effectively. | Register now

Feb. 27, 2020 |
Engaging Across Cultural and Generational Differences
Successful leaders are able to work with and lead others in a culturally diverse workforce. Diversity crosses cultural, global and generational issues. This interactive workshop will provide ways to understand and collaborate with your colleagues by examining workplace flexibility, teamwork, feedback and leadership. This workshop will assist emerging and current leaders become more understanding and inclusive of cultural and generational differences as well as the methods to successfully lead in a globalized environment. | Register now
Presentation Skills
TBA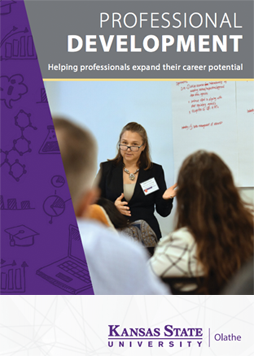 Learn More
Get an overview of the professional development services we offer to Greater Kansas City.

Connect With Us
Looking for a professional development workshop for your employees? K-State Olathe can help. Contact Angela Buzard, manager of training and development, at 913-307-7340 or abuzard@k-state.edu.