Professional Development
Part of K-State Olathe's mission is education and talent development. We offer multiple professional development workshops and seminars designed to enhance the knowledge and skills of employees in Greater Kansas City. Continuing education credits are available as noted on the individual events.


Animal Health
Sept. 26 | Upcoming Regulatory Affairs Seminar
Topic and more information will be announced in the near future.
Business Skills
July 25 | Process Mapping
Process maps provide a foundation for documenting business processes —a key requirement for making effective improvements. This module provides a toolkit to improve organizational performance through defining, prioritizing, mapping and improving business processes. This seminar is offered in collaboration with BioKansas. | Learn more and register
Presentation Skills
Aug. 15 & 20 | Effective Presentation Skills for Technical Professionals
BioKansas and K-State's Olathe campus present a two-part course geared to both early and advanced career professionals looking to improve the graphics in their presentations to maximize effective messaging and impact. Each module can be taken individually. | Learn more and register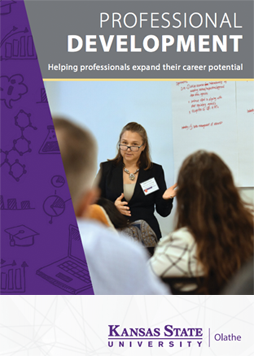 Learn More
Get an overview of the professional development services we offer to Greater Kansas City.

Connect With Us
Looking for a professional development workshop for your employees? K-State Olathe can help. Contact Angela Buzard, manager of training and development, at 913-307-7340 or abuzard@k-state.edu.