Professional Development
We want to help you cultivate talent. From deep dives into advanced scientific knowledge to improving soft skills, K-State Olathe is your partner in every facet of elevating your team.
Continuing education credits are available as noted on the individual events.

Animal Health
Oct. 21-22 | Advanced Animal Health Biologics Workshop
This workshop will cover practical issues in animal health regulatory affairs as it relates to the development of vaccines and other biologics to aid in assuring developed biologics are pure, safe, potent and effective. | Register now
Nov. 11-12 | Advanced Animal Pharmaceutical Workshop
This workshop on veterinary medicine regulations will provide attendees with a detailed, practical and experienced based review of veterinary drug approval processes. | Register now


Nov. 19 | One Health Day
One Health Day provides an opportunity for experts and the community to unite and bring awareness about One Health in action. This year's topic on biosensors will inform attendees about their uses in measuring biological, chemical and physical signs of health. | Register now

Dec. 9-10 | Regulatory Affairs 101 Workshop
This two-day, interactive workshop is an introductory course on the regulatory aspects of animal drug and vaccine development. The workshop provides attendees with an understanding of the veterinary drug approval processes. Content is designed for those tasked with developing and maintaining an animal health company's product portfolio and involved with a company's regulatory strategies | Register now

Leadership
Nov. 13 | Leadership Essentials, Workshop 3: Using Strengths and eIQ to Maximize Personal and Team Performance
This workshop will help emerging and current leaders understand how to use strengths and emotional intelligence to maximize performance. Specifically, it will help participants learn how to build on both personal and team strengths in leadership roles. | Register now
Dec. 17 | Leadership Essentials, Workshop 4: Critical Communication Skills for Leaders
In this interactive workshop, experiential activities and real-life scenarios will help emerging and current leaders become more mindful listeners and learn techniques and methods that will enable them to handle difficult conversation and conflict more effectively. | Register now

Agribusiness
To be announced.
---
Customized trainings
In addition to our on-campus and online professional development workshops, K-State Olathe can customize a training experience for your company's needs. These custom programs can be offered on our world-class campus, on-site at your location or online.
Connect with us today to so our experts can begin designing specialized programs that build employee or leadership skills.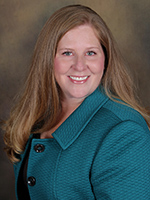 Angela Buzard
Manager, Training and Development
913-307-7340
abuzard@k-state.edu