Campus Safety and Security
K-State Olathe is among the safest campuses in the United States. The University has adopted the Principles of Community, which describe the welcoming, safe and inclusive community K-State strives to be. Campus safety is a shared responsibility of faculty, staff and students. Together we make K-State what it is: a safe, supportive and caring community where the well-being of each of us is the responsibility of all of us.
Coronavirus Disease 2019 (COVID-19)
Current status: There are no immediate threats to the K-State campuses or cause for alarm.
Visit K-State's Coronavirus Disease 2019 (COVID-19) information and resources portal to get up-to-the-date information about the disease and recommendations for how to mitigate contact and spread.
K-State Olathe strives to ensure the safety of its students, faculty and staff at all times. The following resources are provided to help inform and educate all who engage with our campus.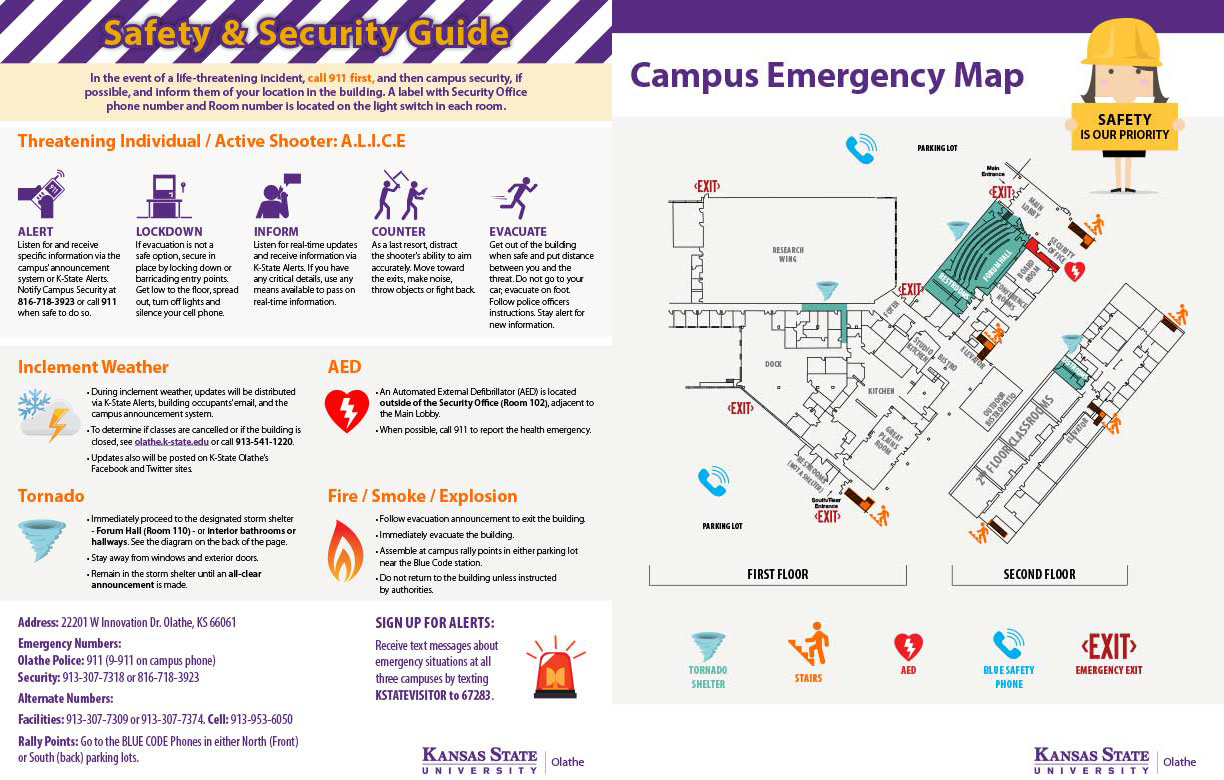 Quick Guide
Get an overview of A.L.I.C.E., emergency response and contact information, and a map of the building with shelters, exits and more.
The Kansas Personal and Family Protection Act is the State of Kansas' policy permitting concealed carry, including on college campuses beginning on July 1, 2017.
The Board of Regents and Kansas State University are taking important steps to keep the university community safe and informed, including an online weapons policy training available to all faculty, staff, students and the community. If you would like to learn more, please complete the Weapons Policy Training.
For more information about the university's weapons policy, please visit www.k-state.edu/police/weapons.
K-State Alerts (Kansas State University's emergency notification system) gives campus authorities the ability to communicate emergency information quickly to the university community. The campus community is notified through many channels, including text messaging, alert beacons and automated phone calls. Alerts may be sent out when a dangerous condition exists on campus, a decision to close the campus has been made, or when a decision to reopen the campus following a forced closure has been made. To receive notifications, sign up for K-State Alerts and be sure to select the Olathe Campus Alerts group.
Visitors to K-State can receive text messages about emergency situations at all three campuses by texting KSTATEVISITOR to 67283.
Are you concerned about the health, behavior, or welfare of a K-State student? The Office of Student Life (OSL) can reach out to them to help them get the assistance they need. Call OSL at 785-532-6432, or use the Student of Concern reporting form.
• Resources Offered by the Office of Student Life
• Additional Resources Offered by the K-State Police Department
Campus Security Authorities are required to report crimes. To report a crime, file a CSA crime report.
Sexual violence, dating and domestic violence, and stalking are significant experiences and can be traumatizing. Each person's experience is unique and numerous options are available for support and reporting at the Olathe, Manhattan and Polytechnic campuses. It is important to note there is no one correct response — simply different options to access support and different reporting options.To learn more, review the Here to Help site.