Andy Stout
Coordinator
Laboratory/Facilities Operations
Contact Info
913-307-7374
als9748@k-state.edu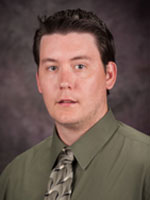 As Laboratory/Facility Operations Coordinator, Andy is responsible for providing support for laboratory faculty and researchers with setup and operation of their labs. He also is a contact for contractors and vendors providing service and maintenance for the building and its equipment.
Prior to K-State Olathe, Andy has spent 10 years working for Kansas City area John Deere Dealers as a parts department manager and operations manager. Before that, he worked in irrigation and nutrient management research at Kansas State University while earning his bachelor's degree in Agriculture Technology Management.
Andy lives in Olathe with his wife and two daughters.