Roberta Robinson
Manager
Human Services
Contact Info
913-307-7316
robertar@k-state.edu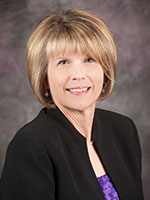 Roberta Robinson is a lifelong K-Stater. She grew up in Wamego, Kansas, and earned her degree in early childhood education from Kansas State University. She worked at several daycares and owned one during her years after graduation.
Roberta began her career with K-State in 1989, beginning as a custodian and then as an administrative assistant.
In 1999, she and her husband moved to Des Moines, where she worked for Iowa Communications Network before moving back to Manhattan in 2003. She was hired into K-State's College of Veterinary Medicine.
When K-State opened the Olathe campus, Roberta came with the dean she was working with to assist with the start up. Since the campus opened, Roberta served as an administrative assistant, and has now taken on Human Resources management responsibilities as the Olathe campus has been rapidly expanding its staff.