Suzanne Lane
Suzanne Lane joined K-State Olathe in August 2014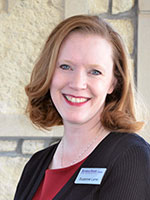 as a recruiter. Previously, she worked as a recruiter for K-State Global Campus for over seven years in the Wichita area.
Her entire career has been dedicated to helping people of all ages with their education, from early childhood to adult learning. Her role at K-State Olathe includes helping working professionals identify educational opportunities at the graduate level.
Suzanne holds a Bachelor's Degree in Speech Communication from Northwest Missouri State University. In her spare time, Suzanne can be found gardening, going for long walks and enjoying day trips with her husband and two children.​