Jesse Peters
Support Specialist
IT
Contact Info
jjpeters@ksu.edu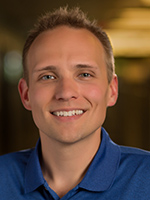 Jesse Peters is an IT support specialist. He is responsible for configuring, maintaining, troubleshooting, repairing and upgrading technology at the campus used by faculty, staff, students and tenants as well as in the classrooms, research labs and conference rooms. This ranges from laptops to A/V technology.
He also helps train faculty, staff and students on new technology and cybersecurity practices.
Peters brings nine years of classroom experience working with students and a variety of classroom technologies.
Prior to joining the team at K-State Olathe, Peters worked as a Tier II help desk generalist at Menlo k12itc for a year and a half. He diagnosed and resolved technical issues on a variety of classroom technologies for administrators, teachers, school IT staff and students at more than 50 school districts.
He also has worked as a secondary English to Speakers of Other Languages, or ESOL, coordinator for Piper USD 203 for a year; an instructional designer at Grantham University for two years; and taught social studies for 7th and 10th grade students at Lansing Middle and High Schools.
Peters has a master's degree in instructional technology from Fort Hays State University, a bachelor's degree in secondary education from K-State and a networking and cybersecurity certificate from Johnson County Community College. He also holds a certification in CompTIA – Security+ and is a Cisco Certified Network Associate (CCNA).
He joined K-State Olathe in January 2022.