Ashley McCarter
Graphic Designer
Communications and Marketing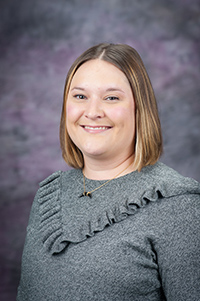 Contact Info
almccarter@ksu.edu
Ashley McCarter is the graphic designer for the communications and marketing team at K-State Olathe.
In this role, McCarter designs a wide variety of marketing materials to support campus events, programs and initiatives, including professional development programs, K-12 outreach, social media and recruiting efforts. She works in a variety of creative mediums including print, digital, video and social.
Prior to joining K-State, McCarter was a consultant with many Kansas City area corporations and businesses in health care, publishing and communications. She also worked as a designer in print production, digital advertising and corporate communications.
McCarter earned a bachelor's degree in fine arts with a concentration in graphic design from Kansas State University. She lives in the Kansas City area with her husband, son and rescue dog.