William Duncan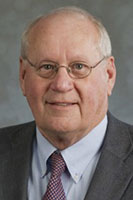 Education
Ph.D., Organic Chemistry, Oklahoma State University, 1972; M.S., Organic Chemistry, Pittsburg State University, 1966; B.S., Chemistry/Mathematics, Pittsburg State University, 1965
Specialties
Corporate-level administrative, business, and technical management of contract research and product development units performing studies in support of the development of new pharmaceutical, biotechnology, agrochemical, veterinary medicine, and related products.
Experience
Consultant
Following retirement as President of the Kansas City Area Life Sciences Institute (KCALSI) on March 31, 2009 have provided independent consulting services to private sector companies, academic institutions, and research organizations in support of specific projects focused on life sciences/biotechnology related activities.
President
Kansas City Area Life Sciences Institute (February 2001 to April 2009)
Responsible for overseeing Kansas City Area Life Sciences Institute's (KCALSI) life sciences initiatives, including the articulation of KCALSI's vision to the various community and scientific stakeholders and potential funding organizations; providing administrative and technical leadership while supporting and fostering collaborations within the research community, consistently promoting the Institute's goals and objectives; and assisting community and scientific leaders in fundraising activities.
Midwest Research Institute, Kansas City, Missouri
Vice President, Technical Operations (February 1999 – February 2001)
(Director of Strategic Marketing, 1995-February 1999) (Other technical/management positions spanning a period of 15 years)
Responsible for oversight of the R&D activities of MRI technical divisions, including: Chemical Sciences, Life Sciences, Applied Engineering, Environmental Engineering, Pharmaceutical Product Development, and the Center for Regional Development. As Director of Strategic Marketing was responsible for MRI's Strategic Marketing Program and the activities of MRI regional marketing representatives.
Professional Affiliations
CritiTech, Board of Directors, 2003–present
DT S&D Board of Directors, 2009-present
Strategic Veterinary Pharmaceuticals Inc., Board of Directors, 2015-present
Transgenx LLC, Executive VP and Founder, 2015-present
Advisory Board, Kansas City University of Medicine and Biosciences, 2010-present
Consultant, University of MO-Columbia -2010-present
Economic Development Corporation of Kansas City, 2004-2009
International Isotope Society, President, 1997-2000, Trustee, 1985-present
Kansas City Area Development Council, Life Sciences Advisory Council, 2006-2009
Kansas Senate Committee on Science Biotechnology Task Force, October 2001–2009
KansasBio Board of Directors, 2004-2009
University of Kansas Center for Research, Inc. (KUCR), Board of Directors, 1993-2000
Missouri Biotechnology Industry Organization (MOBIO), Board of Directors, 2001-2004, Board Chair, 2004-2009
Missouri Western St. Univ. Institute for Industrial and Applied Life Sciences, Advisory Board Member, 2006-Present
Senator Roberts' Committee on Science, Technology and the Future, 2003-2009
Phoenix Scientific, Inc., Board of Directors, 1999–2002
Honors and Awards
Distinguished Service Award, International Isotope Society, 1997
Enterprise Award, MRI Council of Principal Scientists, 1997
Entrepreneur of the Year, High Technology-Life Sciences Category, Kansas/Western Missouri Region, Ernst & Young, 1992
Publications
Author or co-author of over thirty publications in peer reviewed technical journals.