Mike Wiegers
Vice President of Consumer Engineering
Garmin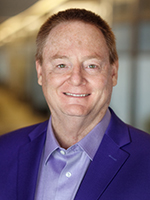 Michael R. Wiegers graduated from K-State with a bachelor's degree in electrical engineering in 1982. After graduation, he joined King Radio in Olathe, Kansas, to design VHF aviation communication and navigation radios. During his 11-year career with King Radio, he worked in new technology areas such as flight-critical software and electronic display systems.
In 1993, Wiegers joined Garmin as the lead engineer in marine product design. During his tenure, he has served in a variety of technical and business leadership capacities in all Garmin consumer product segments.
Wiegers was named to his current position of vice president, consumer engineering in 2010 and directs the day-to-day operations of Garmin's worldwide consumer engineering group.
He was named the 2018 College of Engineering Alumni Fellow at Kansas State University.