David Warm
Executive Director
Mid-America Regional Council (MARC)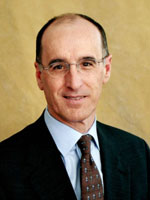 As the chief executive of the metropolitan council of governments serving Greater Kansas City, David Warm leads key regional planning and community development initiatives.
He also oversees a broad range of regional functions that have become widely regarded for innovation and effectiveness in areas that include transportation, environmental protection, emergency management, aging services, early education and local government cooperative services.
Before coming to the council, Warm was the city administrator at Liberty, Missouri, and served in administrative positions with the city of Kansas City, Missouri.
Warm is active in many civic groups and initiatives, including serving on the boards of area nonprofit agencies addressing health care, education and community development, as well as the Hall Family Foundation. He is involved in both state and national professional associations, is an associate of the Citistates Group, and a board member for the Alliance for Regional Stewardship.
In 2006, Warm was inducted as a Fellow into the National Academy of Public Administration. That year Warm received the Walter Scheiber Leadership Award from the National Association of Regional Councils for making a significant impact in his region and at the national level. In May 2012, he was honored by Nonprofit Connect as the Professional of the Year.
Warm has also served on the adjunct faculty of the University of Kansas public administration department.
He holds B.A. degrees in Political Science and Economics from the University of California, Santa Barbara and a Master's in Public Administration from the University of California, Riverside.