Dre Taylor
Founder
Nile Valley Aquaponics 100,000 Pound Food Project, KC Urban Farm Co-Op and M2M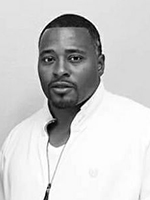 With more than a decade of work and innovation in urban and aquaponic farming, Dre Taylor is one of the country's leaders in food systems.
Taylor is the founder of Nile Valley Aquaponics 100,000 Pound Food Project, or NVA, in Kansas City, Missouri. NVA is a sustainable greenhouse in the urban core and is Missouri's largest commercial facility. It produces local fresh fish and vegetables to create healthier choices, health education, volunteer opportunities and economic stability in the urban core. Currently, it produces 50,000 lbs. of tilapia, microgreens, vegetables, wheatgrass and herbs while training and employing youth and members from the community in the urban core and surrounding areas.
At NVA, Taylor teaches farming, aquaculture and aquaponic workshops. He also gives presentations across the country. Taylor has partnered with the aquaculture program at Lincoln University in Missouri and the Kansas City School District. He also serves as an aquaponic consultant to Langston University in Oklahoma.
Aquaponics uses no chemicals or pesticides and uses 90% less water than traditional farming. This creates an organically raised product that has no waste stream due to recirculation of nutrient rich fish water. Taylor holds a patented aquaponic system that involves an integrated feeding system using insects he breeds to naturally feed the fish.
NVA annually attracts more 5,000 visitors and volunteers from various schools and organizations, and has had more 50 countries represented since it opened in 2015.
Taylor also is the founder of the KC Urban Farm Co-Op, which seeks to provide 1 million pounds of local fresh, pesticide-free fruit over the next 20 years. Co-op members have planted more than 200 fruit trees, 300 ft. rows of raspberries, blackberries and fig trees and 100 beehives around the region. It also has planted one of the country's largest public fruit orchards in Swope Park in Kansas City, Missouri.
Additionally, Taylor founded the Males to Men mentoring program, or M2M. The program is geared toward guiding, teaching and employing at-risk youth in the urban core. Currently, M2M has mentored more than 100 boys.
Taylor serves on the community boards for NVA, Community Land Trust and the Greater Kansas City Food Coalition. He also is a grant reviewer for the U.S. Department of Agriculture's Sustainable Agricultural Research and Education program in the north central region, which covers 11 states.
Since 2011, Taylor has been mentored by Will Allen, who helped Michelle Obama start her "Let's Move!" initiative to reduce childhood obesity and who was named one of Time Magazine 100 Most Influential People in the World in 2010.