Dennis Ridenour
President and Chief Executive Officer
BioNexus KC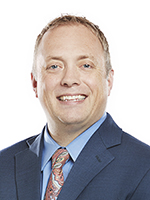 Dennis Ridenour became president and chief executive officer of BioNexus KC in February of 2019.
Prior to joining BioNexus KC, Ridenour was president and chief executive officer of BioKansas, a regional life science and health care trade association based in Fairway, Kansas, where he managed all facets of the organization, including day-to-day operations, member development and engagement, strategic planning and finance.
Prior to joining BioKansas, Ridenour worked for 6 years at the Stowers Institute for Medical Research in Kansas City, Missouri, and at Merck Research Labs in Boston, Massachusetts, for 3 years.
Ridenour started his professional career as a researcher in the Department of Neurobiology at Harvard Medical School. Ridenour earned both a B.S. in Biological Sciences (1999) and an M.S. in Veterinary and Biomedical Sciences (2002) from the University of Nebraska-Lincoln, as well as an M.B.A. from the University of Kansas (2012).
Ridenour serves as Treasurer on the Board of Directors for RareKC, a nonprofit whose mission is to accelerate the diagnosis, care and treatment of rare conditions, and as a member of the Board of Directors for the Alphapointe Foundation, a nonprofit that works to empower people with vision loss to live, work and be independent. He also currently serves on several advisory boards, including those that support Kansas State University Olathe Campus, Wichita State University Biomedical Engineering, Olathe School District Bioengineering 21st Century Academy, and the Kansas State Science and Engineering Fair.