Katherine Kelly
Executive Director and Co-Founder
Cultivate KC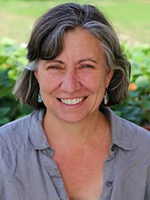 Katherine Kelly has led Cultivate KC since its founding in 2005. She leads in strategic planning and program development; oversees and manages an annual $1million budget, four programs and 12 staff members.
In addition to her leadership role, she continues to work directly with farmers and nonprofit food projects, providing technical assistance and business development support.
Kelly also works with the Cultivate Board of Directors and board/community volunteer committees focused on program evaluation/development, on long-term planning for land and facilities and on strategic planning.
Prior to Cultivate KC, she ran her own certified-organic farm, Full Circle Farm, for 7 years, in which she supplied produce to farmers markets, through a CSA program, and restaurants. She hired and trained numerous field crew members who have since gone on to start and run their own farms. She co-founded the Brookside Farmers Market, widely regarded as one of Kansas City's premier farmers markets.
In collaboration with K-State Research and Extension and MU Extension, she co-founded and ran the Growing Growers Training Program, a farmer training program that continues to the present. She also worked in non-profit and grassroots organizations for nearly two decades. She also ran a national grant making program for the Unitarian Universalist Association for 5 years.
Her nonprofit experience includes managing fundraising programs, organizational planning and development, marketing and communications in the performing and visual arts, and program management.
She began her working career as a community organizer working for a social justice organization; that framework for empowering people and communities underpins all her work.