David "Guilley" Guilfoyle
Group Manager of Bakery and Fats & Oils groups
International Flavors and Fragrances (IFF)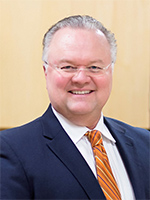 David "Guilley" Guilfoyle is the group manager of Bakery and Fats & Oils groups at International Flavors and Fragrances, or IFF.
Food has been Guilfoyle's life work, beginning with dipping Dilly Bars from his highchair, at his mother's family-owned Dairy Queen in central Kansas.
Guilfoyle holds a Bachelor of Science in Foods and Nutrition Sciences from Kansas State University, with an emphasis in sensory. He is a graduate of the American Institute of Baking, where he taught and later worked in their research division. He also earned an Associate's Degree in Culinary Arts from the Culinary Institute of America.
His work experience includes positions at: Anheuser-Busch Cos., Pizza Hut Inc., The JM Smucker Co., Koch Industries, McDonald's Partner Brands, Burger King Inc., Interstate Brands Corporation and Little Caesar's. During his time with these companies, he developed many technologies and products, which are seen in the market today.