Professional Development
Part of K-State Olathe's mission is education and talent development. We offer multiple professional development workshops and seminars designed to enhance the knowledge and skills of employees in Greater Kansas City. Continuing education credits are available as noted on the individual events.
Upcoming Workshops and Seminars
MAY
May 23-24
About the conference

The Conference on Higher Education Computing in Kansas (CHECK) is an annual gathering of information technology professionals in post-secondary institutions in Kansas to present, discuss, and learn about new technologies and current issues in providing IT services to the higher education community. CHECK is sponsored by the Regents Information Technology Council (RITC) and coordinated by the Information Technology and Services Advisory (ITSA) subcommittee. Hosting the event rotates among the member institutions.
Sessions cover a wide variety of timely topics in a variety of formats that include an invited keynote, panel discussions, and individual presentations. It is a valuable time to hear how others around the state are addressing issues common to all of us and to network with colleagues. An evening dinner and social time offer additional opportunities for more informal interactions.
---
JUNE
June 7
About the seminar

Details to be announced in the near future.

Rev Up Your Recruiting
June 8 | 9 a.m. to 3 p.m.
About the seminar

Join KCCAP and Learn Wichita admissions representatives/adult student recruiters for a one-day, information-packed workshop to explore strategies for understanding and meeting the higher education needs of adult students now and in the future.
---
Overview of Services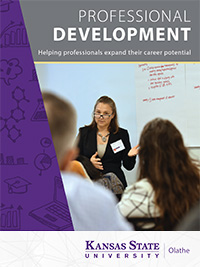 Learn how K-State Olathe is providing professional and continuing education that meets the needs of today's workforce. We tailor program offerings to a variety of industries and high-growth fields.
Download the brochure (pdf)


Connect With Us
Looking for a professional development workshop for your employees? K-State Olathe can help. Contact Angela Buzard, manager of training and development, at
913-307-7340 or abuzard@k-state.edu.