Postharvest Physiology Lab
The Postharvest Physiology Lab is located at Kansas State University's Olathe campus. The lab is directed by Eleni Pliakoni, associate professor of urban food production and postharvest handling.
The lab is affiliated with the M.S. in Horticulture with an emphasis in Urban Food Systems degree program.
We specialize in
Work With Us
Our Urban Food Systems team is seeking to hire 12 fully funded graduate research assistants (GRAs) to work on a transdisciplinary urban food systems research project.
Lab director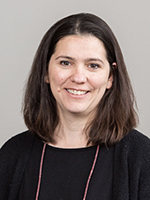 Eleni Pliakoni
Associate Professor of Urban Food Production and Postharvest Handling
epliakoni@k-state.edu
913-307-7370