Executive Board Room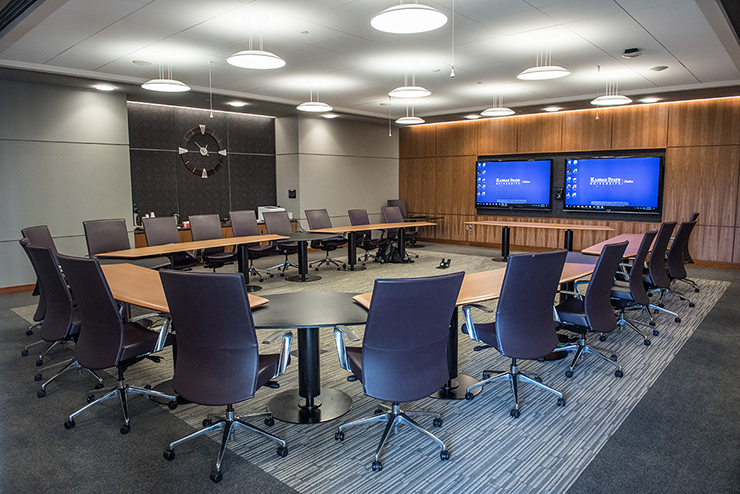 The board room is an intimate setting for executive meetings and will seat up to 48 people (24 can be seated at the table and 24 can be seated around the perimeter of the walls.) This room is located on the first floor and affords clients a quieter space for top level meetings. It represents K-State Olathe's focus on responding to industry needs for executive meeting space, training and research.
Room Rates are based on the reserved time. All set up and tear down must fall within the 4 or 8 hour rented time.

Click here to see the rate sheet.*
Features
Computer
Two Monitors
Data Connection
WiFi
Ceiling Microphones
Two Floor Boxes with VIP Connection Plate (Allows guest to use their laptop with the system)
Pan Tilt Zoom Camera
Six Executive Tables (Each Seats Four)
Twenty-Four Executive Chairs
Conference Call Capability
Video Conferencing Capability
Use of basic audiovisual equipment included in room rates.
If you are interested in hosting an event in our facility, please contact Mary Partridge, 913-307-7307,
mpartridge@k-state.edu.
*PRICES ARE SUBJECT TO CHANGE