Build Your Degree
The Master of Agribusiness tailors each course to the industry and offers a global animal health industry elective to further customize the curriculum for the student. This will enhance students' management and strategic skills to help them deal with the challenges of the rapidly changing environment within the animal health industry.
The two, one-week on-campus sessions of the program are held at K-State's Olathe campus each August and October.
Program Structure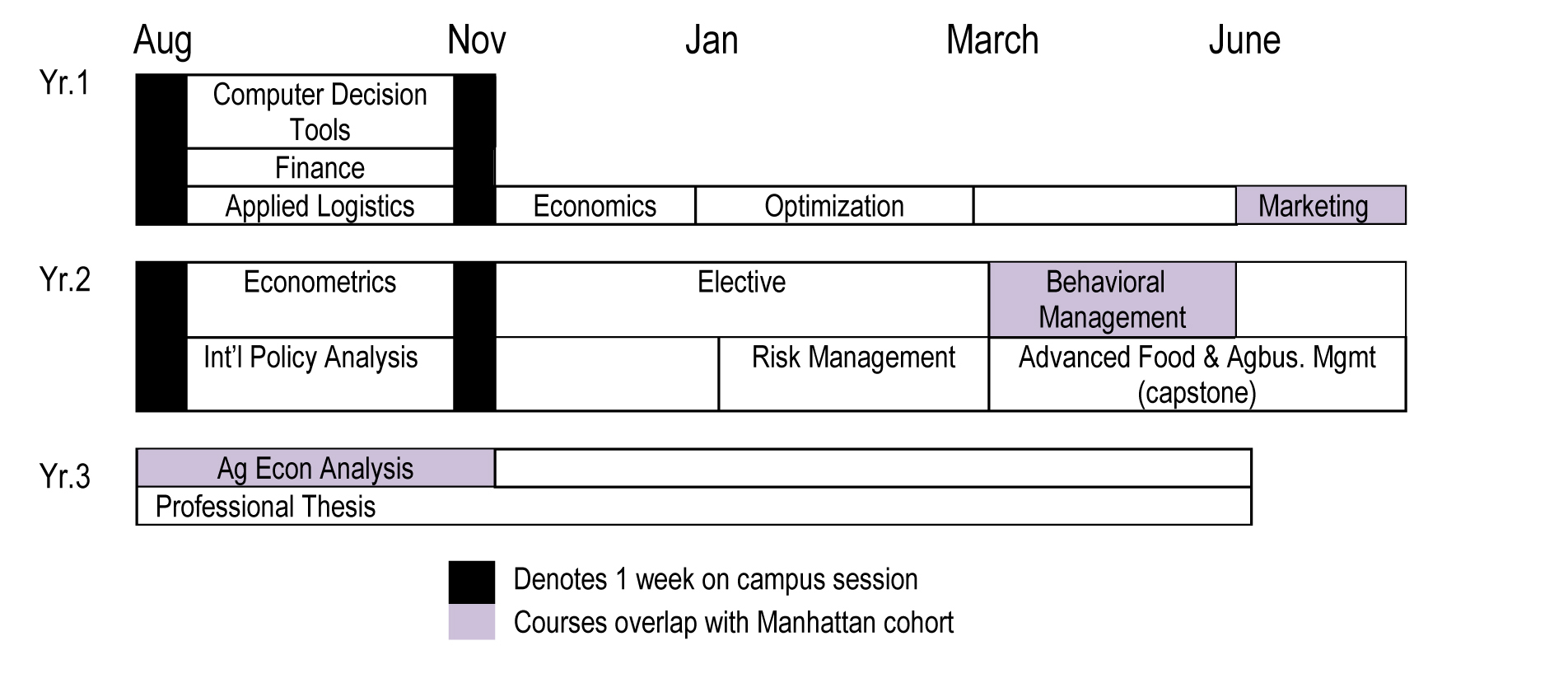 Course List
Agribusiness Courses — 27 hours
AGEC 700 Applied Agribusiness Economics
AGEC 701 Computer Decision Tools for Agribusiness
AGEC 713 Agribusiness Financial Management
AGEC 720 Agribusiness Risk Management
AGEC 730 Applied Agribusiness Logistics
AGEC 740 Seminar in Agricultural Economics Analysis
AGEC 760 Econometrics in Agribusiness
AGEC 761 Optimization Techniques for Agribusiness
AGEC 770 International Agribusiness and Policy Analysis
AGEC 890 Advanced Food and Agribusiness Management
Animal Health Course — 3 hours
AGEC 750 Economics of the Global Animal Health Industry
Business Courses — 9 hours
MKTG 810 Marketing Concepts and Research
MANGT 820 Behavioral Management Theory
Thesis Hours — 6 hours
AGEC 899 Master's Thesis


Stackable Credentials
K-State offers a stackable credential for professionals working in the animal health industry and students earning their MAB.
The Animal Health Management Graduate Certificate is a 20-credit hour program that equips current and future professionals with knowledge and technical skills in agribusiness, economics, policy and regulation — core competencies that employers in the animal health industry say many employees are lacking.