Lauren Racki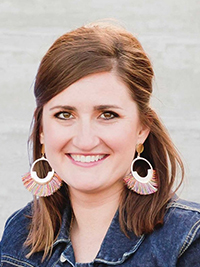 Lauren Racki is the admissions representative/recruiter at K-State Olathe.
She develops and oversees activities, events and programs that recruit new students and increase enrollment in the campus' academic programs. She also works with prospective students, building a relationship with them and assuring they have the information needed to find an academic program that matches their career goals.
Racki is an experienced community builder. Prior to joining K-State Olathe, she served as the program and events director at the Northeast Johnson County Chamber of Commerce. In that role, she increased enrollment in their Leadership Northeast program and increased attendance at multiple annual events. She also served as the adult ministries and young adult lead for Hillcrest Covenant Church, wherein she designed programs around community service and team development.

She is involved in multiple community organizations, including Kansas City Tri Delta Alumnae Group, Kansas Leadership Center and the Kansas Chapter Advisory Board for Saint Paul's Outreach Kansas City. She also has received multiple awards for her leadership and involvement.

Racki earned a bachelor's degree in interior design with a minor in leadership studies from Kansas State University.