Lindy Eakin
Director (Retired)
Fiscal Affairs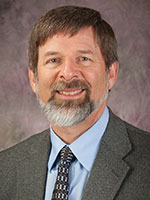 Contact Info
913-307-7302
leakin@k-state.edu

At a glance, a director of fiscal affairs handles overall financial strategy and planning. Lindy Eakin does that and then some.
His favorite aspects of his job at K-State Olathe are diversity and problem-solving because there are lots of different, interesting things to handle day in and day out. While sometimes the job can be interesting simply because "you don't know what you don't know," as Lindy puts it, the team works together to get everything taken care of.
A native of Houston, Lindy attended the University of Kansas and received a bachelor's degree in business and an MBA as well as a master's and PhD in history as he ascended the ranks in financial management. He went from working as a graduate student to eventually earning the position of vice provost of administration and finance. Lindy also taught history classes at KU.