Terri Bogina
Executive Assistant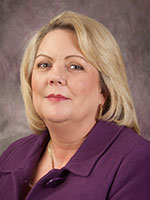 Contact Info
913-307-7304
tbogina@k-state.edu

As an executive assistant, Terri Bogina has a wide range of responsibilities. She provides administrative support and handles accounts receivables and payables.
Bogina worked at Sprint for 21 years and followed that up with a job as an administrative assistant at the Kansas City Area Life Science Institute, which promotes life sciences in the area.
She is a lifelong Johnson County resident and attended Pittsburg University.