Sara Gragg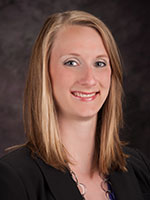 Sara comes to Kansas State University Olathe from Texas, where she earned her doctorate and was a post-doctoral research scientist. Closer once again to her Nebraska roots, Sara's interest in food science and animal science began during her service in FFA and through Ag education. She earned her undergraduate degree from UNL before moving to Texas.
Dr. Gragg's experience with industry complements her academic experience, and is an ideal fit for her position at K-State Olathe, which is at the heart of the thriving Animal Health Corridor. She has traveled extensively presenting on the topic of food safety and studying processes in food safety and microbiology.
Sara's family is at home in Olathe.
Education
Ph.D., Animal Science, Texas Tech University, 2012
M.S., Food Science, Texas Tech University, 2008
B.S., Food Science/Technology, University of Nebraska-Lincoln, 2006
Research Interests
Food safety & food microbiology
Pre-harvest and post-harvest settings (produce, meat and poultry)
Emphasis on reduction of Escherichia coli O157:H7 and Salmonella in the food supply
Leafy greens
Meat industry, with a specific interest in beef
Researching the efficacy of novel interventions
Identification of high risk tissues and their potential association with pathogen carriage in cattle
Current Scholarly Work/Publications
Gragg, S.E., G.H. Loneragan, K.K. Nightingale, D.M. Brichta-Harhay, H. Ruiz, J.R. Elder, L. Garcia, M.F. Miller, A. Echeverry, R.G. Ramirez Porras, M.M. Brashears. 2013. Substantial within-animal diversity of Salmonella recovered from lymph nodes, feces and hides of cattle at slaughter. Applied and Environmental Microbiology. In production for vol. 79, no. 15.
Hill, J., T.S. Edrington, G.H. Loneragan, S.E. Gragg, D.J. Nisbet. 2013. Rapid detection of Salmonella in bovine lymph nodes using a commercial real-time PCR system. Journal of PostDoctoral Research. 1:42-46.
Tapp III, W.N., S.E. Gragg, J.C. Brooks, M.F. Miller, M.M. Brashears. 2013. Reduction of Escherichia coli O157:H7 and Salmonella following application of various sanitizing treatments to harvesting knives. Journal of Food Protection. 76:200-204.
Gragg, S.E., G.H. Loneragan, M.M. Brashears, T.M. Arthur, J.M. Bosilevac, N. Kalchayanand, R. Wang, J.W. Schmidt, J.C. Brooks, S.D. Shackelford, T.L. Wheeler, T.R. Brown, D.M. Brichta-Harhay. 2012. Cross-sectional study examining Salmonella enterica carriage in subiliac lymph nodes of cull and feedlot cattle at harvest. Foodborne Pathogens and Disease. 10:368-374