Paul Casady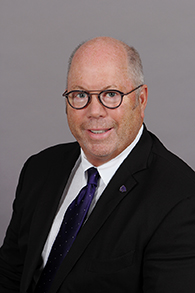 Paul Casady is the executive in residence professor of practice for animal health at K-State Olathe.

Described by Korn Ferry International as "a thoroughbred in the animal health industry," Casady has 35 years of industry experience that he is using to elevate animal health activities at K-State Olathe and Kansas State University.

He divides his time between outreach, service, teaching and research. Part of his duties include increasing K-State Olathe's visibility in the animal health industry with companies both in the Kansas City Animal Health Corridor and across the U.S. Through the development of education programs with faculty at both the Olathe and Manhattan campuses, Kansas State University will work to provide academic support for talent and workforce development. The programs also will develop research into the animal health industry in line with the stated goal of Kansas State University becoming a Top 50 public research institution by 2025.

Casady also teaches courses to graduate students and employees in professional development workshops and educational seminars.

Additionally, Casady serves as a liaison to K-State Olathe's faculty and programs for animal health companies located both in the region and nationally.
Casady and wife, Shelly ('78 Kansas State University alumna), have two daughters and one grandson. His hobbies include hiking, hunting, Aikido, wine tasting and K-State football.
Industry exerpience
Casady has more than 35 years of industry experience.

Prior to joining K-State Olathe, Casady served as vice president of business operations in Latin America and the Pacific region at the animal health company Merial (Sanofi). While there, he delivered strong top line growth over four years, resulting in significant market share development; reshaped the region's team and organization to spur growth and cultural change; restructured and delivered a new strategic direction from the region to key countries; helped with the development of new employee positions; led successful product launches; and more.

He also served as a member of Merial's global management leadership team.

Casady also held multiple positions in a 20-year career at Merck Animal Health (Schering-Plough Corporation, Intervet Inc.), including serving as vice president and general manager of the U.S. division and a member of the global management leadership team; vice president of the North American division; and area director of the Americas region.

He also held positions as managing director, general manager in the U.K.; managing director, general manager of Australia; area manager for the Asia and Pacific region; and national sales manager for the U.S. During his career,

Casady and his family lived overseas for 10 years.
Professional organizations
Casady is a member of the Governor's Task Force for the National Bio and Agro-defense Facility, or NBAF.

He previously served on the board of directors for the Animal Health Institute and the Kansas City Animal Health Corridor.
Education
• Bachelor's degree in animal science and industry from Kansas State University

Casady also completed several professional education experiences, including a strategic marketing position at the University of Virginia; sales management at Columbia University; finance for non-finance managers at the University of Virginia and the advanced management program at INSEAD in Fonainebleau, France.