Graduate Degree and Certificate Programs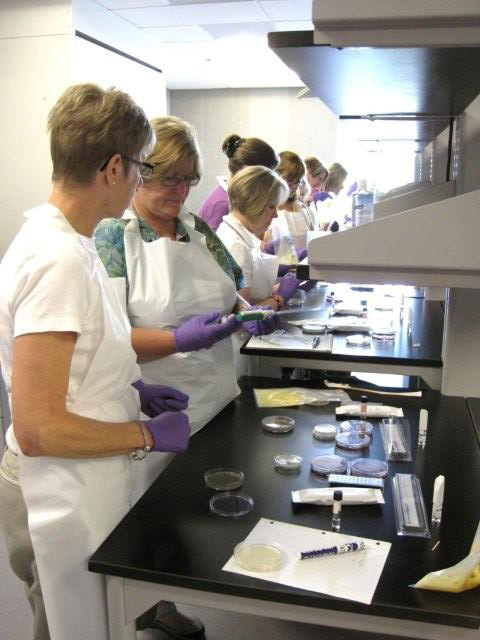 K-State Olathe offers programs related to animal health and nutrition, food safety and security, and scientific and business skills that complement those industries. The programs are hybrids, consisting of online courses, video conferencing and some face-to-face laboratory courses on the K-State Olathe campus or at partner institutions. Currently, some programs are in the development stage, and others are in various stages of the approval process. As programs secure Board of Regents approval, they will be announced through various media and listed on this page.
Enroll now!
Master's of Science in Adult Education
The M.S. in Adult and Continuing Education is designed for professionals who work with adults in an educational or training capacity. Coursework examines characteristics of adult learners; explores motivational, social, and cultural differences; develops skills in planning and evaluating programs for adults; helps professionals better understand how adults develop and learn; and enhances communication and teaching skills.
Ph.D in Adult and Continuing Education
The Doctor of Philosophy in Adult and Continuing Education prepares scholars who are committed to careers as college or university faculty members or in other educational or corporate settings where the application of adult learning principles and theories and the development of new knowledge, theory, and research are important.
Master's of Science in Horticulture with an emphasis in Urban Food Systems
The M.S. in Horticulture with an Emphasis in Urban Food Systems focuses on how the urban food system impacts economic development and provides a source of nutritious, safe food grown locally/regionally. The specialization places an emphasis on sustainable agriculture, food systems project management, and safe food production in an urban environment. View more information here.
Master's of Agribusiness with an emphasis in Animal Health
The Master of Agribusiness is a combination of a MBA and M.S. in agricultural economics designed for working professionals. The "on-campus" portion of the program will be held at K-State Olathe in August and October of each year. Each course is tailored to the animal health industry and offers a Global Animal Health Industry elective to further customize the curriculum for the student.
Master's of Science in Food Science
The M.S. in Food Science encompasses the full spectrum of food science, including food processing, product development, sensory analysis, food safety and security in the food chain. View more information here.
Coming soon...
Master's of Science in Veterinary Biomedical Science
The M.S. in Veterinary Biomedical Sciences provides students with knowledge of animal physiology, responsibilities of animal health researchers, and experience in formulating research questions, designing and conducting appropriate experiments, and combating infectious diseases in animals.
Master's of Science in Biological and Agricultural Engineering
The M.S. in Biological & Agricultural Engineering provides students with knowledge of the biological, physical, engineering and technical sciences required to solve problems for the world's largest industry, food and fiber systems.
The programs will roll out at K-State Olathe over the next academic year. The website will be updated as courses and details are announced.